The school day
Our ambition is to provide 32.5 hours of school a week as per the government guidelines. However, while located in our temporary site this is not feasible because of the school transport arrangements we have had to put in place.
As soon as we are located in a permanent school home back in our catchment area, we will be in a position to increase the school day from 9.00am to 3.30pm, with after-school clubs and wraparound care.
Typical timetables for Reception, Key Stage 1 (Years 1 and 2) and Key Stage 2 (Years 3 to 6) are shown below.
Reception
8.00 – 8.30

Bus pick up in catchment area

Swiss Cottage

Belsize Park

8.30 – 8.50

Buses travel to school

8.50 – 9.00

Morning activities / Register

Classroom

9.00 – 9.30

Carpet session: Phonics

Classroom

9.30 – 10.30

Phonics groups and on-going provision

Classroom or outdoors

10.30 – 10.45

Assembly

Hall

10.50 – 11.05

Carpet session: Maths

Classroom

11.00 – 11.30

Maths groups and on-going provision

Classroom or outdoors

11.30- 11.45

Story

Classroom

11.45 – 12.45

Lunch time

Lunch hall, playground, garden classroom, library, Craft room

12.45 – 1.00

Carpet time: Topic

Classroom or outdoors

1.00 – 2.30

Topic groups and on-going provision

Classroom or outdoors

2.30 – 2.45

Reading

Classroom

3.00 - 3.30

3.00 – 4.00

Buses back to Swiss Cottage / Belsize Park OR

After school clubs

Classrooms, hall or outdoors

4.00 – 4.30

Club bus back to Belsize Park
On-going provision in Reception
On-going provision is a variety of specially selected areas of provision planned by the teacher. Children can move freely between the classroom and their outdoor learning area. Some of the activities children may select are listed below:
Outdoors

Indoors

Construction

Climbing

Exploring

Water (weather permitting)

Role play area

Writing area

Malleable activities, such as play dough

Reading corner

Maths table

Creative area (various craft and painting activities)
Example Key Stage 1 Timetable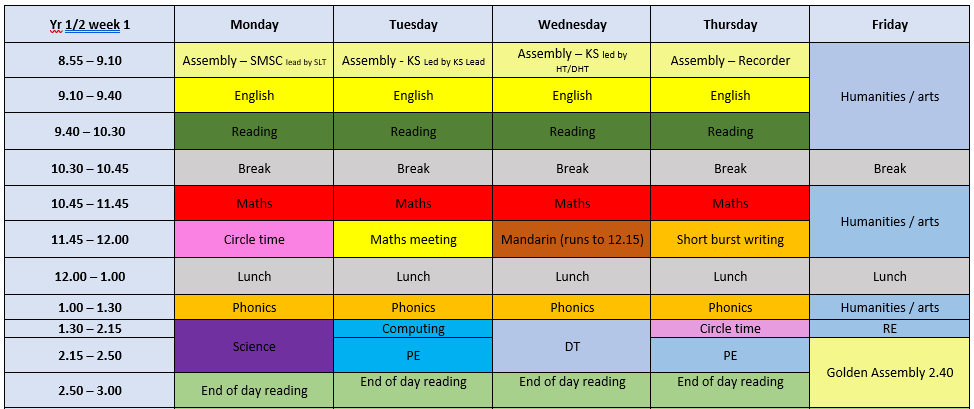 Example Key Stage 2 Timetable