PE
Vision Statement
Our school aims to inspire all children to develop a love of physical activity and sport. We want our learners to know more and do more. Through good physical education, whole school values and a whole child approach, we aim to nurture confident, resilient children who will strive for their personal best. We listen to our children's wants and needs and provide them with a range of active experiences, clubs and chances to compete. We want to aid our children in obtaining the values and skills to celebrate and respect the success of others as well as modestly celebrating their own successes. We aim to ensure that our delivery of physical education allows all children to develop a good physical competence and have the skills and mindset to leave primary school with the capabilities to be successful in their sporting challenges and active lifestyles at secondary school and beyond. We strive to educate both our children and families to develop a greater understanding on how to live healthy lifestyles and make healthy choices. We are dedicated to ensuring healthy minds as well as bodies and will continue to support our children's well-being.
PE Implementation and Progression
PE is taught for 2 hours a week and is a mix of indoor and outdoor sessions. As part of our enrichment offer, children also participate in a whole school Sports Festival at the start of every half-term with the intention of highlighting a wide range of sports that children may not have otherwise encountered.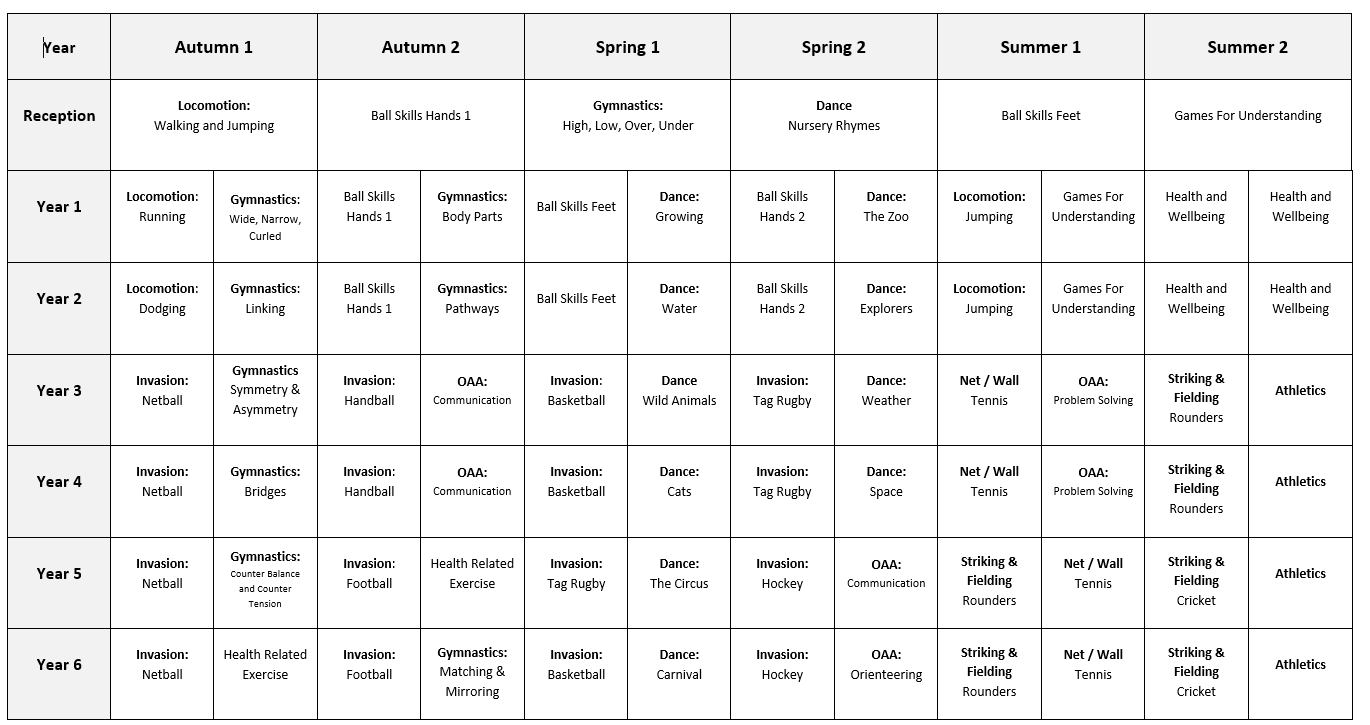 EYFS

Children in reception investigate PE through the specific area the prime area 'physical development'.
Gross motor skills are developed through free-play activities in the larger outside space. Children have access to a range of materials that enable them to develop the skills they need to climb, jump, hop, throw, catch, kick, pass, crawl and skip. Children will take part in PE lessons in the Summer term.
Examples of PE in EYFS:
carefully climbing on the climbing frame
balancing on construction equipment
catching, throwing and aiming balls
large parachute play
moving in different ways
bicycles and tricycles
hoops and skipping ropes